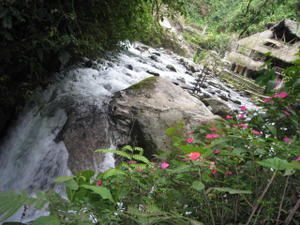 Very nice place to get away for the weekend, only 2 1/2 hours west from Quito. With Hanna and Vicky, all excited about our next trip, we leave in the morning from El Parque El Ejido (near la Casa) to Mindo. A couple of hours later we arrive to this tiny cute village in a lovely green tropical valley surrounded by forested mountains, engulfed in incredible fauna and flora. A man catches us as we get off the bus and ask us if we want to go to La Casa de Cecilia. It sounds good to us! After 5 minutes walk we reach this very cute hostel, a wooden cabana with a really nice atmosphere, from where we can hear some water falls and birds singing (Mindo is a hotspot for bird watchers with some 400 bird species). We choose our beds for the night, try the hammocks on the ventilated veranda, and notice that there are no windows at all.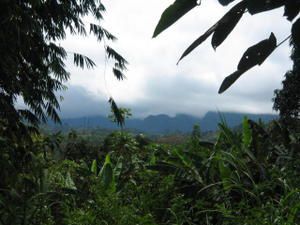 Ready to hike in the Mindo-Nambillo protected forest to reach the waterfalls (the reserve has an altitude of 1390m climbing up to 4770m), we depart from la Casa de Cecilia by ourselves, asking directions to the waterfalls. We walked some 1 ½ hours on a fairly steep path in the tropical forest, from where we could hear the cascades coming closer and closer. We then hitchhiked to climb quicker and sat at the back of a pickup, which dropped us right at the spot. After another walk in a path leading to the waterfalls, we could enjoy the relaxing place run by the community, with a natural swimming pool and a diving spot for the valiant ones. The three of us whipped our bathing suits on and walked shyly in the chilly waters. Vicky was the only courageous one to get in entirely. We then walked back to the main path and took a pickup to Mindo.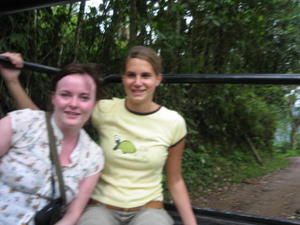 We were caught by a massive storm and arrived completely soaking at the hostel. But the nice shower and dinner made the end of the day just as great as the rest of the day.

The
area is run by the Amigos de la Naturaleza, a local conservation group. The community was very friendly and welcoming, from the baker (we each ate a good hundred of their yummy breads right out of the oven!) to the pickup drivers.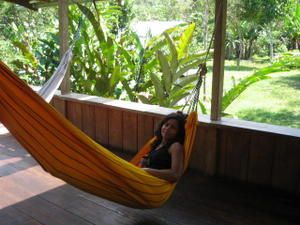 The following day we stayed in the valley and walked on the many paths around Mindo before heading back to Quito. Nice relaxing weekend.