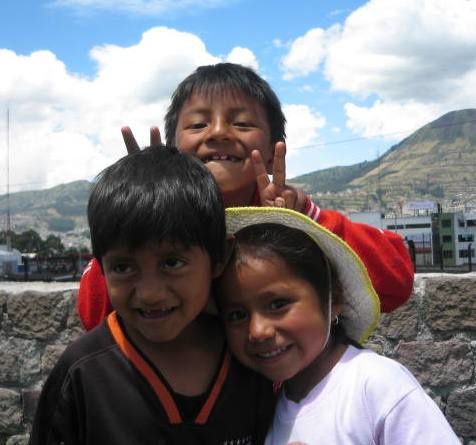 Today I take you with me on the market Santa Maria, El Camal with Alex, Lucia, Erica, Camilla, Sylvana, Stalin, Carina, Catalina, Celeste, Jonathan, Veronica, Chino, Catherine, Jenny, and many more!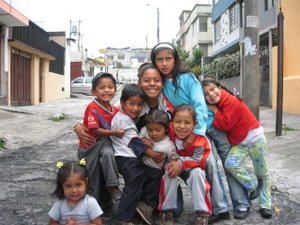 Jolted out of bed early in the morning, I leave the Casa Oriente, pass by the bakery and swallow my breakfast: a pan dulce (sweet bread) and a mandarina, on the way to the Avenida Patria, where I jump in the bus Translatino towards El Camal, in the South of Quito. 20 minutes later I reach CENIT and rush into the small Internet point from which I send a couple of emails and have some chats on MSN. Then it's time to get ready for the market. With Cameron, Loren, Jessica, and Jacqueline we quickly recap the activities of the day, fill a 5-litre bottle with water, gather the markers, pens, colouring sheets, toothbrushes, towels, soap, games, balls in two big bags and are ready to go. The four of us are heading to Santa Maria, 20 minutes away from CENIT. On the way we pass by the colourful Cisnes Market filled with little children, where another team of volunteers is based. From there Celeste and Catherine join us. A couple hundred meters later, we pick Alex, Erika and Lucia, then Sylvana, Stalin, Carina and Jonathan while one of us goes for Camilla and another one for Catalina.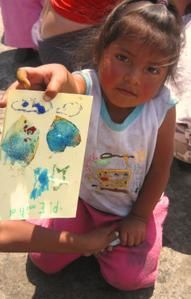 Then we finally reach the spot: a small quiet street. We all come in a circle and start singing our morning song: Buenos Dias Ninos! Bueno Dias Ninos! Como estan? Muy bien! Esta es el salud de la amistad! Que bien! Muy bien!!!!! After this we seat on the ground and all the kids rush on every volunteer, and start the time for serious questions: what's the date today? How many children are there? How many volunteers? How many boys? How many girls? What colour is Jonathan's T-shirt? After each of them answers one question, we can start the day: educative games to learn colours, numbers, the alphabet, animals, body parts. Colouring, drawing, writing, singing…in short: busy mornings. When we're done with the activities, it's time for fun: washing! When they hear: vamos a lavar! They all race to the wall to be the first one in the line to hold the soap. After some tears have been poured and kicks discretely given, we can start washing. One of the volunteers is pouring the water on their hands while another one is waiting at the end of the line with a towel. Each kid scrapes his/her hands together, and then washes his/her face. When they are set with faces and hands, they grab a toothbrush and start brushing their teeth. The final touch: nice creamy body lotion. Then it's time to go back to work for some of them, to school or with their parents for some others. Around in a circle we sing our good-bye song (Estrellita donde estas?) before walking back to CENIT, where lunch is waiting for us (the volunteers). The strong sun in the morning made it difficult to remain dynamic and energetic and I would normally go back to CENIT crawling on my knees. Rice, beans, popcorn, soup, freshly squeezed fruit juice, plantains, chicken (with beak and legs), pork (with remaining hair and hoof), omelette, tuna, beef. Surprising at first, but good after a few trials, if you ever get used to it.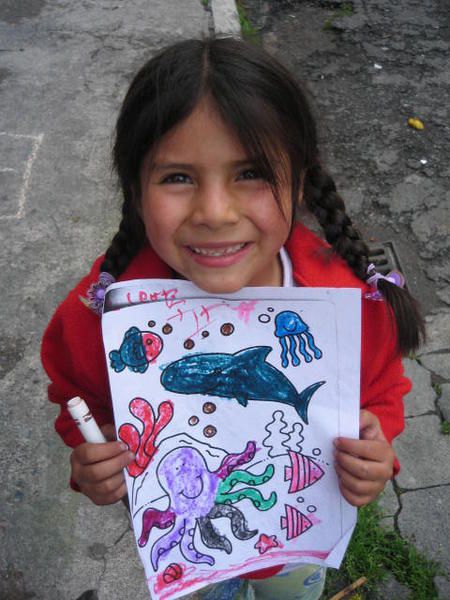 After this very nourishing substantial meal, I enter a classroom filled with teenage girls in uniforms for the English class. On my first day I was so discouraged…I had to start from scratch, as they don't even know the pronouns and most basic verbs. But I have fun teaching, I try to make it as fun and interesting as possible for them and they seem to enjoy it very much. Great! But what an energy-sucking hour!
Not on a regular basis I would give literacy classes to women. A genuine experience. There was nothing more rewarding than looking at the smiles up on their faces as they manage to read full sentences. I really loved it.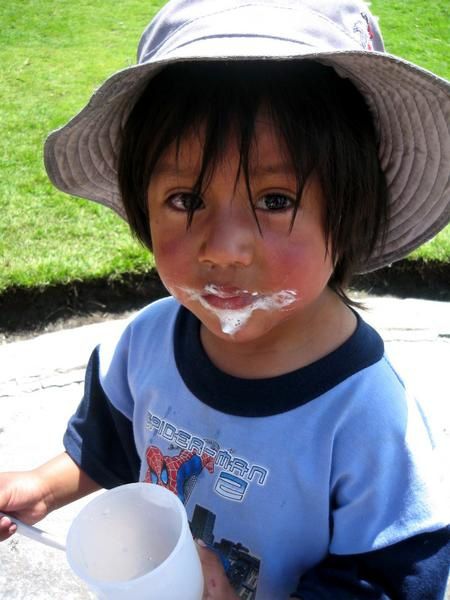 Then it is time to take the bus towards Dos Puentes, to give my English lesson to some other children at the NGO Children International. Somehow in Quito, the weather is so predictable: in the morning up till noon, the sun shines, the temperatures are nice and warm and everyone's happy. And then around 2pm, it starts pouring cats and dogs for the whole afternoon (until night) and it gets so chilly you almost need a scarf and gloves. So I often end up walking in the rain to reach Dos Puentes, soaked like an old sponge. The English classes at Children International were not so special. It was so difficult to lead the class as the pupils were aged between 6 and 10, some already knowing how to read and write, some others not yet. I had no materials at all and very few scholastic materials. So I had to be very creative, and in the end I ran out of ideas and was really looking forward to the end. Also one thing that chilled my enthusiasm: some of the youths of the NGO robbed money from me while I was giving the class.
Then I finally head home, buy some fruits on the way, meet with friends over a batido, have dinner and go to bed. No need to tell you that I don't cry myself to sleep after such a day.