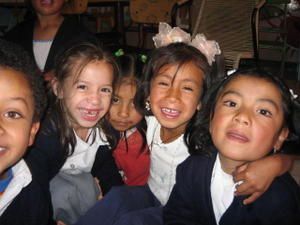 CENIT, El Centro de la Niña Trabajadora (the Center for the Working Girl) is a non-profit NGO devoted to helping working children (especially working girls) and their families overcome grinding poverty and improve their quality of life through social services such as education, skills training, nutrition programmes, healthcare, counselling and recreation.

The centre is located in southern Quito, in the poor district of El Camal, where it is easy to reach out to families and children in need. Most of the children benefiting from the programmes have suffered various types of psychological, physical or sexual abuse. Convinced that any sustainable change has to be initiated at the community level, CENIT operates directly on the field. The gender focus is relevant in situations where girls have a much larger workload than boys and have little chance of being favoured over boys for education. However, boys are not denied help and also widely benefit from CENIT's services.

In the 1990s, Quito was hit by a profound economic crisis coupled with massive migrations from the rural areas to the city, resulting in a sharp increase of street children and child labourers. In response to these challenges, the Sisters of the Good Sheperd, a Catholic order, founded CENIT. 15 years later, the nuns still run the NGO, which employs about 35 staffs, ranging from teachers, to social workers, nurses and psychologists. International and local volunteers work closely with the staffs, especially in the street outreach programme, through which child labourers or children at risk of entering child labour are identified and enrolled in one or several of the programmes offered by CENIT.

CENIT's programmes benefit the extended community. The street clinic provides health services to about 2000 patients every year. The schools give educational and life skills to some 250 children over the same period, many of whom would otherwise be out of school. The street outreach programme helps over 190 children and parents by bringing educational projects to the streets. The drop-in tutoring centre (CEA) provides tutoring to about 70 children, providing them with the additional support they need outside school to keep on track.

When I first entered CENIT and saw their programmes, I was so impressed on how they impact on the community. Their strong commitment contributes to the strength of the various programmes. I went through some phases of doubt about the real change brought about the activities, about the overall management of resources, about the identification of the beneficiaries, which sometimes did not seem to target the ones most in need. There were of course many questions scrolling in my head with too few answers. But in the end, with hindsight, and in comparison with other NGOs and programmes that I could observe, I strongly believe that CENIT is a great NGO with an enormous influence improving the lives of hundreds of people.