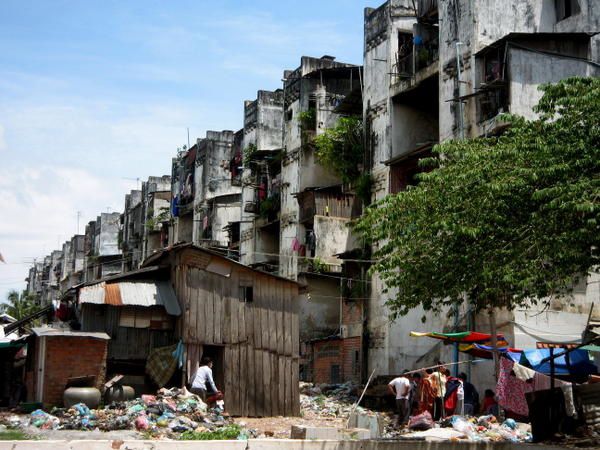 The White building is housing more than 3000 inhabitants. The building was anarchically equipped with electricity, running water, and evacuation appliances by its occupants.

Big blue pipes are running on the walls to evacuate sewage. Mildew scatters over the slightest chap. Other constructions are regularly added by those who live there on a long term basis: store room, chicken coop, or additional bedroom. This fascinating place hosts a multitude of parallel lives. It is the result of collective, functional, and independent creation.

During lunch time, I went there with Emilie and Gaëlle, to get familiar with the place and prepare the grounds for Emilie's documentary on the condition of women in Asia. We entered by the « back door », where slums blossomed, but where only hardliners remain, after most of the occupants were evicted or migrated to other places.

What a surprise to see how nice and welcoming the people are. Smiles and greetings everywhere. You want to take pictures? Then do! People enjoy looking at themselves and welcomed us warmly. Since we came during the day, the place was not so crowded. Most slums are deserted during the day as their occupants flock into the city to earn the daily money. Then we climbed the stairs and entered the White Building, we walked along the long dark corridors where we could get a glimpse of the cozy homes (some with TVs, Hifi, and DVD players). Others with much less.

On the way we stopped to buy some home made fritters (no idea what they're made of!). Not so tasteful. And then, I jumped on my bike and rode back to work.

The look we had on this site is blind. No matter how radiant the daylight is, it does not reveal the darkness of life. Prostitution, smuggling, corruption, and all sorts of violence have long made their ways into the White Building. But for us, this one visit only revealed bright smiles.