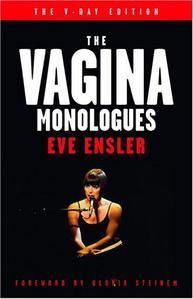 I remember myself when I was a child. I wanted to be strong, fast, the best in everything I did. The only way for me to achieve this was to become a boy. I acted like a boy, defended my sister in the playground, played with little cars, wore shorts. But it did not last long. I was a real girl and could not be happier about it. I played with dolls, had a secret lover at school, wore cute little dresses and had very long hair. What a relief!

* * *
I must say that it was very courageous of Eve Ensler to collect stories from women about their vaginas and make a whole book out of them. What a weird idea she had?? How would you write a whole book on vaginas? And who would be interested in it if there wasn't a hint of pornography in it? So why? Tell me why she did that?

Read it and you'll understand!

After the release of the book the V-Day movement was created to stop violence against women and girls. V-Day is a catalyst that promotes creative events to increase awareness, raise money and revitalize the spirit of existing anti-violence organizations. V-Day generates broader attention for the fight to stop violence against women and girls, including rape, battery, incest, female genital mutilation (FGM) and sexual slavery.