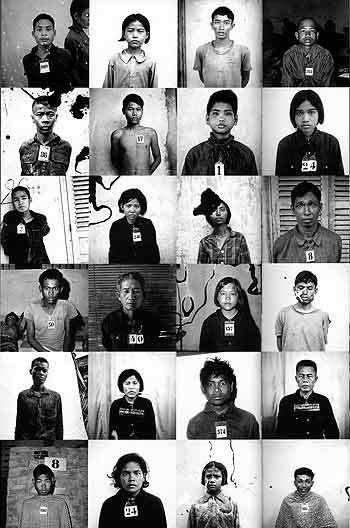 My name is Sophan Rasmei, I am 58, and I am an accountant in Phnom Penh. I remember the time of the Khmer Rouges, it will never fade away. I lost my six brothers and sisters, my parents, my grand parents, my four closest friends. I fell so sick that I almost died, and at the time, I wish I had. I was tortured, starved, scared by children, the perpetrators of the most awful crimes. And all these years, nothing could answer my question: "Why?"

I do not believe in the international justice system. But somehow, I felt that my suffering was acknowledged by the trials. I felt that I could finally move on with my life and put aside all the demons which have been haunting me ever since. Get rid of the guilt that has been eroding my soul, the guilt of having survived.

* * *
My name is Lok Channa, I am 47, and I grow rice in Kampong Chnang province. At the time of the Khmer Rouge, I was one of the "old people" (although I was only 13 years old), meaning the Khmer Rouge ideal communists for the new Cambodian state. Like other "old people", I was a simple peasant, uneducated, hard-working. I believed in our Revolution, I wanted Kampuchea to be freed from exploitation. I would dedicate myself to it, even if it meant making compromises. Our land had to be freed from the "new people", the roots of all capitalist evil. I learned to recognize these people. They came from the city, usually had a lighter skin color than us, wore glasses (which meant they were intellectuals) and seemed to have money. I learned to recognize the enemies of the Revolution. I was very sensitive to any detail, any word, any attitude which could work as a proof of betrayal. That is how I killed my three brothers, my mother, my two little cousins, my uncle and three of my aunts. And more than 250 other women, children, and men.

I realized too late that this revolution was in fact a crime against our own people. I realized too late that I was only a puppet in the hands of the real culprits, the Angka (the organization). I committed these crimes, but I am indeed a victim myself. I was 13 years old. I had to kill my own family. The guilt is burning so deep inside me that my life has become a nightmare. I feel guilty of still being alive, I feel guilty of still living among the people that could have been murdered by me. I feel guilty of being free. I feel guilty of not having had the courage to die. I feel guilty of having been scared. Because only fear made me do all this.





Lire Justice Tardive et Selective au Cambodge, Le Monde Diplomatique, Raoul-Marc Jennar