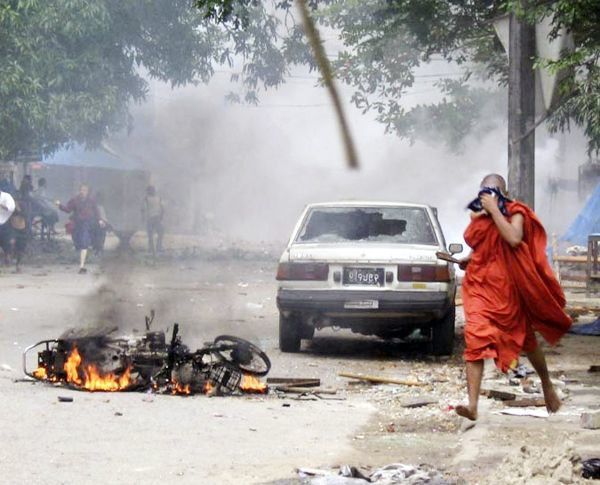 Thant Myint-U, "The River of Lost Footsteps", p.348
"If Burma were less isolated, if there were more trade, more engagement - more tourism in particular - and if this were coupled with a desire by the Government for greater economic reform, a rebuilding of state institutions and slow opening up of space for civil society, perhaps the conditions for political change would emerge over the next decade or so."

To go or not to go to Myanmar on holidays? The country definitely attracts me, that's for sure. But would I go if it meant supporting the dictatorship and preventing democracy in any way? Well, no. After countless hesitations, discussions with travelers who went to Myanmar, reading articles for and against travel to Myanmar, I decided to go. But before you decide, this is what you should know:

Burma has been ruled by one of the world's most brutal military dictatorships for the last forty years; a dictatorship charged by the United Nations with a "crime against humanity" for its systematic abuse of human rights. The National League for Democracy (NLD), led by Nobel Peace Laureate Aung San Suu Kyi, won a landslide victory in Burma's 1990 election. The result has never been honoured. Tourism provides the dictatorship with millions of pounds every year, while forced labour has been used to develop many tourist facilities. For these reasons, Aung San Suu Kyi has asked tourists not to visit Burma.

Burma's military regime is responsible for:
• Systematic and widespread use of forced labour.
• Rape as a weapon of war against ethnic women and children.
• At least 1,300 political prisoners, many of whom are routinely tortured.
• More child soldiers than any other country in the world.
• Nearly half the government budget spent on the military and just 19p per person per year on health.
• One in ten babies dying before their fifth birthday.
• Over 60% of Burmese people living in extreme poverty, less than 60p a day.

The Tourism Boycott
"Burma will be here for many years, so tell your friends to visit us later. Visiting now is tantamount to condoning the regime." Aung San Suu Kyi
Aung San Suu Kyi, the NLD and Burma's exiled government have all asked tourists not to visit Burma. Tourism in Burma provides the dictatorship with millions of pounds every year, while the development of tourism has escalated human rights abuses.

In February 2005 the then British Prime Minister Tony Blair expressed his deep concern about human rights violations in Myanmar and said that: "For as long as they continue, I would urge anyone who may be thinking of visiting Burma on holiday to consider carefully whether by their actions they are helping to support the regime and prolong such dreadful abuses."

Blair's advice did not help me much as there is virtually no objective information to help me make my mind on whether my travelling to the country would be supporting the regime or helping to promote democracy in Myanmar.

But Julia Hanne, with her bachelor thesis "Tourism in Burma - Blight or Blessing", shed light on the issue. She recommends that the focus be put on a combination of a smart sanction and a responsible tourism approach (economic, fair, social and environmental measures) to provide relevant income channels and ways out of isolation while minimizing contact and benefits for the regime. Responsible tourism in Burma would therefore take advantage of the many existing local supply chain networks in the tourist areas and imply a corporation with foreign investors that would bring the necessary expertise and employ as well as support locals and in turn benefit from local knowledge.

Responsible tourism seems to be the goal and spirit of all travel to Myanmar in the present context. Key characteristics of Responsible Tourism include:
• Minimizing negative economic, environmental and social impacts
• Generating greater economic benefits for local people and enhances the well-being of host communities, improves working conditions and access to the industry
• Involving local people in decisions that affect their lives and life chances
• Making positive contributions to the conservation of natural and cultural heritage, to the maintenance of the world's diversity
• Providing more enjoyable experiences for tourists through more meaningful connections with local people, and a greater understanding of local cultural, social and environmental issues
• Providing access for physically challenged people
• Being culturally sensitive, engenders respect between tourists and hosts, and builds local pride and confidence




Gill Charlton, Daily Telegraph correspondent, 15 May 2004
"Why is your Government doing this to us? The company I'm employed by has cut my wages in half because there isn't enough work for us all." [Comments from a taxi-driver]

US expatriate living in Rangoon, Earthtimes.org, 21 October 2007
"The junta gets very little, at least as a percentage of its income, from tourism. By scaring off the tourists, lots of small players with no connection to the military will probably close down their businesses and lots of ordinary people, like hotel and tour company staff, will lose their jobs."

The Economist 16 August 2008 - "Twenty Painful Years"
"Jobs are scarce. Even those with degrees are working as secretaries or taxi drivers.
Feeding a family is a full-time job. Most resented is the League's [NLD] support for a tourism boycott. Many argue this simply reinforces the junta's self isolation."

"The Times", 19 March 2001
"Since when was isolation good for human rights? Think of North Korea. When did any leader, even such a beacon of resistance as Aung San Suu Kyi, speak for an entire party or people?"

The Age (Melbourne) 1 October 2008 - "To visit or avoid, that's the Burma guilt trap"
Throughout our trip we never had people telling us our presence (ostensibly as tourists) was unhelpful. The more tourists go to Burma, the more they spread away from
attractions such as Inle Lake and Bagan or the temples and palaces of Mandalay and Rangoon; the more internet and phone traffic they generate, the harder it will be for the regime to monitor the contact.



See Network Myanmar Website
See the Burma Campaign UK website
Photo from www.mahalo.com/myanmar_protest