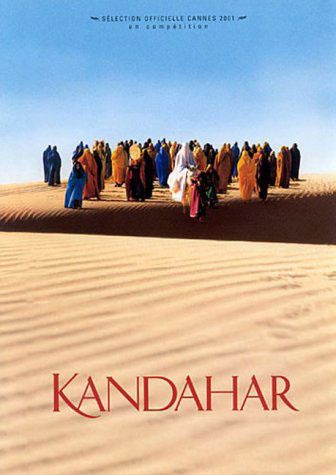 Kandahar (originally titled Safar-e Ghandehar ("Journey to Kandahar") and, alternatively, The Sun Behind the Moon) is a 2001 film by Iranian director Mohsen Makhmalbaf, set in Afghanistan during the rule of the Taliban.

The film is based on a story (partly true, partly fictionalized) of a successful Afghan-Canadian (played by Nelofer Pazira) who returns to Afghanistan after receiving a letter from her sister, who was left behind when the family escaped, that she plans on committing suicide on the last solar eclipse of the millennium.

Kandahar was filmed mostly in Iran, but also in Afghanistan itself. Most people, including Nelofer Pazira, played themselves. The film premiered at the Cannes film festival of 2001, but didn't get much attention at first. After 9/11, however, it was widely shown. Kandahar won Makhmalbaf the Federico Fellini Prize from Unesco in 2001.

A film focusing on the socio-cultural aspects of the crisis in Afghanistan, and especially on its women and girls. Make sure you watch the making of the movie. The fact that all the charachters in this film are not actors but real people makes it even more powerful.