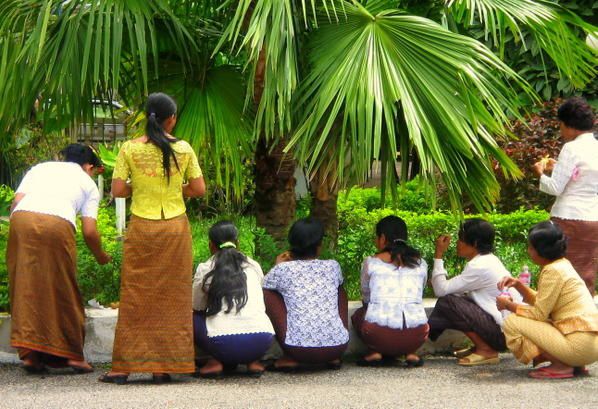 Gtz is extending its programme on the promotion of women's rights to Siem Reap province. So we paid a short visit to the department of women's affairs of Siem Reap with the Minister. No time to visit the splendid temples of Angkor, but enough to do a little tuktuk tour around Siem Reap. Handicrafts are beautiful, streets are clean, and the man in the street speaks English: obviously a touristic city.

We had a very civilized dinner with the Minister. Only ladies at the table. Sadly enough, no gossiping but talks on the law on the prevention of human trafficking. And later on the law on the prevention of domestic violence. Very delicate food, many mosquitoes - but fortunately, the chief of the Cabinet was there to chase them away from the head of her Excellency.

The following day, I attended what could have been the most boring gathering in a long time, given the fact that it was held in Khmer, and that no translation was available for me. But surprisingly enough, I found it very interesting to guess what the speeches were saying. And I found out later that my guesses were right:

---
Excellencies,
Honorable Guests,
Ladies and Gentlemen,

Domestic Violence is a problem. We need to fix it. And we are confident the joint efforts of the Cambodian government and GTZ will bear their fruits.

Thank you for your attention.
Applause
(Brief version)
---

Some hundred people were attending, dressed in their best outfits, solemn and full of pride, mostly women. I sat in the middle of the room, between a very small women - whose feet couldn't reach the ground - taking as many notes as she could, and an old man, obviously not so concentrated on what the politicians were saying.

At the beginning of the session, everybody stood up, holding their arms straight along the body, and listening religiously to the national hymn. I found this moment extremely moving... It summarized in one minute the strength and loyalty of the Khmer people I have observed so far. Was it the music? Or was it the looks in their eyes? Or the rigidities of their bodies? I don't know, but that was a great moment.