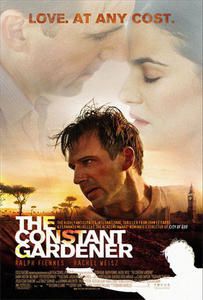 "So who has got away with murder? Not, of course, the British government. They merely covered up, as one does, the offensive corpses. Though not literally. That was done by person or persons unknown. So who has committed murder? Not, of course, the highly respectable firm of KDH Pharmaceutical, which has enjoyed record profits this quarter…and has now licensed ZimbaMed of Harare…to continue testing Dypraxa in Africa. No, there are no murders in Africa. Only regrettable deaths. And from those deaths we derive the benefits of civilization, benefits we can afford so easily…because those lives were bought so cheaply."

The Constant Gardener, final scene.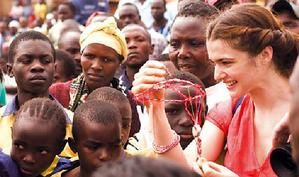 The Constant Gardener is a 2005 Academy Award winning film based on the John Le Carré novel of the same name. Directed by Fernando Meirelles (City of God) and produced by the Simon Channing-Williams. The story was partly filmed in Kibera, Nairobi.

The Constant Gardener Trust was created to provide basic education and sanitation around the villages where the movie was filmed. Rachel Weisz, Ralph Fiennes and John Le Carré are directors of the charity. A good example of responsible filmmaking – unlike Sauper, who failed to give the people who participated in his film "Darwin's Nightmare" a fair compensation or remuneration for their valuable contributions, without which the film would not have existed…

I was particularly moved by the character played by Rachel Weizs, Tessa. This young, passionate and admirably courageous activist, who would make no compromise at all and go far beyond the limits set by safety, political correctness, and fear.

* * *

« Notre univers reste un équilibre précaire entre la fin par le chaos du magma et la fin par le gel du cristal. Pour que le monde progresse, la complexité est une nécessité. Son évolution cherche bien des chemins qui se révèlent sans issue et dont la nature sacrifie les explorateurs.

La crainte ou l'habitude retiennent beaucoup de gens dans leur zone de confort, hélas souvent aussi de plus en plus une zone d'ignorance, où le risque n'est pas meilleur. La passion est nécessaire pour la simplification indispensable à l'action, parce qu'elle permet les choix, c'est-à-dire le renoncement au secondaire pour concentrer ses ressources sur ce que l'individu considère utile à un moment donné. Beaucoup préfèrent ne pas payer ce prix.

Il n'y a probablement pas de 'bonne réponse'. Certains préfèrent l'intensité que d'autres voient comme une agitation dérisoire, une illusion anesthésique. Tu vois l'espoir à travers la confusion et tu t'engages. La lucidité porte sa charge de souffrance mais aussi d'exaltation, et de toute manière tu n'as probablement pas le choix, c'est comme ça que tu es. Et l'alternative est de s'abandonner au hasard, pas notre personnalité. »

Jean