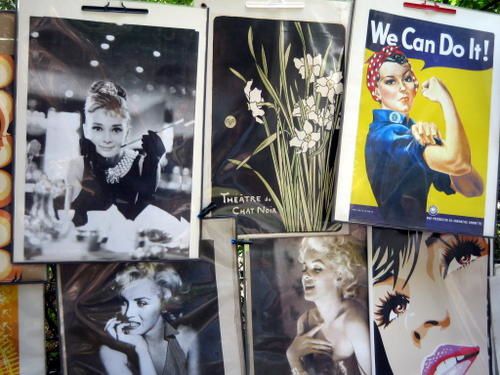 Yeah, that's it! A network meant to bring together as many NGOs, CSOs and CBOs dealing with gender issues as possible for effective, concerted, and coordinated action in Africa. Its aim is to strengthen the role and contribution of African organisations focusing on women's development, gender equality and human rights in general. It provides a channel through which experiences, information and strategies can be shared among the members for constant improvement.
I interned with FEMNET for 2 months in February and March 2007 in the advocacy programme. The time spent at FEMNET was too short to really get a deep and comprehensive understanding of advocacy work in the region and in this field, but I surely learnt from this experience and add my little contribution to FEMNET's work. First, that was such a great thing to be the only person from outside Africa, I could really learn about the culture and the integration was made very easy by the very welcoming team. It was extremely enriching to work in an environment with different blueprints, conceptions, representations, working habits, and interpersonal relations.
I understood a lot on the dynamics that foster gender inequality and constant violations of women's rights in East Africa.
This experience revealed the feminist in me! Coming from a country where women have, to a large extent, their rights respected and enjoy almost the same prerogatives as men, I never felt the need to claim anything or fight for the cause of women. But having been in countries where women's rights is still a concept that is not broadly understood as fundamental rights, I basically changed the way I considered the position of women in our global society. I actually would like to clarify something about the term 'feminism', which is now turned into an old fashioned movement only meant for lesbians and ancient times' literature authors equipped with a vagina. Well it might seem a little bit excessive, but I'm not exaggerating. Women don't dare to call themselves feminists anymore, especially among the younger generations. But what is feminism? No more than demanding equal rights for men and women.
And I can claim it out loud: I am in favour of the recognition and respect of women's rights all around the World (political power, economic opportunities and intellectual recognition). Only then can all the nice speeches calling for more peace, freedom, wealth, education, health, and so on can become reality and stop being mere words pronounced with false conviction and hypocrisy. Porque sin las mujeres, los derechos no son humanos…
Keep up the good work FEMNET!
Eve Ensler for the 'Stop Rape Now' UN joint initiative, Author of The Vagina Monologues