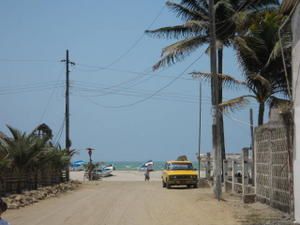 My first weekend out of Quito!! A whole bunch of volunteers from CENIT on the way to the Ecuadorian northern coastal village Canoa. The organisation was a bit hectic so I decided to make my own bookings with two other volunteers that will later become two wonderful friends: Vicky from Bristol, UK, and Hanna, from Bavaria, Germany. We met at the terminal terrestre, where I thought I would never find them, with the chaotic crowd on this very busy day, but the model sized Hanna was quite standing out. The three of us were heading the coast in the early afternoon, getting to know each other a bit better. The bus ride was long and tiresome but we were so happy to arrive to this really cute little coastal town that we forgot about it. We figured it would be difficult to find a place to stay since it was El Dia de los muertos. So after a few shots, we found a really cool campsite, just a few strides from the beach! The three of us will be sleeping in a two-person tent, but it should do (after the third night spent squeezed between the humid tent cloth and Vicky, I must admit I was happy to find my bed again…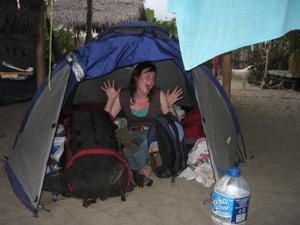 All happy about our new place, we went in the main street and had the typical dish from the cost: rice, fish, beans and sweet fried plantains while listening to some reguetton (kind of latino dance hall) and salsa. I really enjoyed the mild temperatures (even though I had to wear a light jumper in the evening) in comparison with the freezing nights of Quito. We had a nice walk on the stretch of beach leading to our tents and went to bed…I know we're not fun. Then the following day: farniente on the beach, horseback riding behind the caves, swimming (or attempts to swim should I say given the big waves violently breaking on us). The other volunteers arrived at night and were staying not far from us. I met the first French person since I've been in Ecuador! Julien, from Nantes (coucou Julien si tu me lis!!). Such a nice guy volunteering with Children International (the other NGO I work for).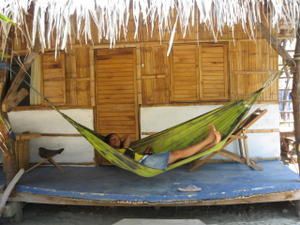 The night was hot!!! Salsa and Reguetton for all! Open clubs where people mingle in the main street. When we went back to the campsite with Hanna and Vicky we met with three nice Colombians, Giovanni, Cesar1 y Cesar2. And needless to mention that Colombians are wonderful salsa dancers…
My last day could have been slightly better if my left foot arch hadn't got butchered by a broken chunk of glass…Vicky was so nice and walked me back to the campsite. I cured the wound with some Aloe Vera directly cut out from the plant in our campsite. After taking our last favourite coastal speciality in one of the restaurants on the main street, we went to the closest place to take the bus to Quito…and I had the best bus ride of my entire life (sounds weird eh?). The driver put some great music (cumbia colombia, salsa cubana y colombiana) all night long. I would normally have been bugged by loud music at night but this time it felt so great being rocked by my favourite music. I loved the atmosphere and really felt in Latin America. At one point the bus stopped while we were still sleepy. Hanna had swapped places for one seat behind Vicky and I, Vicky hadn't noticed and thought Hanna had gone to the toilets. When the bus started off again, Vicky got all stressed out because she thought Hanna had been left behind…and we burst into laughter. As we climbed the mountains my foot was swelling by the minute and I kept wondering: how am I going to walk/take the bus/work at the market/etc with that foot? I would be hitching for the next 3 weeks (actually I gained the sympathy of many people in the street with my new walk!). That was such a nice weekend and the beginning of a great friendship with Hanna and Vicky.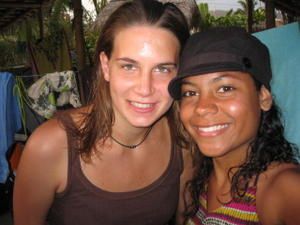 At 4AM we reached el Terminal Terrestre…back to the rain and the cold of Quito…